We recently launched a range of self-contained solar LED marine lanterns, to offer our clients a complete Aids to Navigation package for all marine applications, from navigational buoys to mooring and lanterns, making it easier for them to navigate smarter. Our Research & Development team spent a good 12 months to bring out a marine lantern product that offers superior performance, high efficiency rates and can be delivered with unprecedented lead times.
Our production facility is located in Umm Al Quwain, an hour's drive from our head office in Dubai. This is where we manufacture our range of globally distributed marine products for coastal and marine protection, demarcation, navigation and pollution management, and ensure the highest possible standards for our products without compromises.
Our facility houses an electronics lab that is used to inspect and conduct rigorous testing on the Hyperion marine lanterns, to make sure everything is functioning before being shipped. Our top priority has always been to offer products of the best possible quality, backed by engineered designs, in accordance with IALA (Association of Marine Aids to Navigation and Lighthouse Authorities) industry standards. Our ISO 9001:2015 certification also validates our commitment to our clients and ensures that we are up to the highest quality standards. Every unit is inspected before leaving our production facility.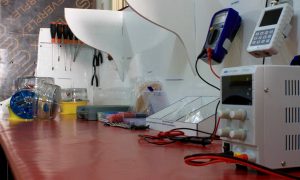 —
Find out more about Hyperion and how to navigate smarter. Tell us a little about yourself below to gain access to our explanatory free e-book, or email us directly at [email protected]: