New Technology To Meet Rising Geosynthetics Demand
For over 20 years, we have protected coastlines and created beaches, starting in Australia before moving to the United Arab Emirates in 2007. The beginning of the Ecocoast story. We have a track record of successfully delivering projects using sand filled geocontainers. As our geosynthetics business keeps on growing, it was time for us to upgrade our processing capabilities at our production facility in Umm Al Quwain (UAE). To that end, we recently introduced new technology to increase capacity and meet rising geosynthetics demand.
Our new custom-built cutting equipment allows more jobs to be processed faster with minimal human intervention, which improves accuracy, reduces errors and waste, resulting in industry-leading productivity in the region. It includes computer terminals from which the team works out the best way of cutting up geotextile fabric, not only reducing lifting and handling practices, but also creating a safer workplace.
The people who previously did the job the old-fashioned way were trained and upskilled to operate the state-of-the-art equipment. Our now fully-automated cutting line enables us to execute the same tasks with up to 25 percent time reduction, significantly increasing our rate of production output.
At the heart of Ecocoast's philosophy is innovation. Ecocoast is no stranger to world-firsts. We were the first to install sand filled megacontainers in the UAE in 2007 to protect some of Dubai's beaches against erosion. Our continuous drive for improvement allows the means to develop new (custom) solutions that suit our clients' needs and deliver our solutions on time, every time.
Case studies are available on our website here. If you are considering geosynthetic containers on your next project and would like to get specialized advice, contact your Ecocoast account manager to find out more or get in touch with us here.
–
In case you missed our previous blog post about geosynthetic containers, click on the text below: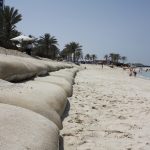 Geosynthetics
as alternative solution
for coastal protection