Geosynthetics For Temporary Coastal And Marine Structures
Geosynthetics can be used in a wide range of applications for coastal and marine engineering, depending on structure purpose (perched beach, breakwater, groyne, revetment) and environmental impact. They can be deployed as alternative solution for permanent or temporary coastal and marine structures.
One of the many advantages of using sand-filled geosynthetic containers (GSC) for temporary structures is that they can easily be removed from sites and repurposed. Our work at Bluewaters is a good example of this.
Protecting Bluewaters during construction works
We were contracted in 2015 to install a temporary retaining wall to cover approximately 500m of beach to protect Bluewaters in Dubai, the United Arab Emirates, during construction works for a period of approximately 3 years.
The ocean-facing strip of land on the newly reclaimed island off the coast of Dubai's marina area was being subjected to severe erosion. This was encroaching upon the temporary roads and buildings involved in the development of the island, threatening to disrupt the ongoing construction works and cause substantial losses of time and costs.
The protection structure needed to be cost-effective, quick to install and remove at the end of the construction works. So, we installed over 1,800 units of Ecobags. The resulting erosion protection wall was a robust solution, enabling the client to avoid continually having to purchase sand and regularly re-nourish the beach whilst construction works on the island were ongoing.
Three years later, we were asked to reinstate Bluewaters beach by removing the temporarily installed erosion protection wall, modifying the existing rock groynes, and reusing the sand from the Ecobags for beach profiling and nourishment, as construction works had come to an end.
Allowing the reuse of locally available sustainable resources
The Ecobags were re-purposed to form an impermeable barrier, in order to prevent sand migration through the existing rock groynes on the island. This was achieved by placing the units alongside the groynes' inner side as an additional impermeable layer.
Sand from the Ecobags and from local accretion areas was used for beach profiling and nourishment, to create a useable beach. Sand from the local beach was screened, in order to reduce the amount of debris and larger particles, leaving the beach with properly graded sand only.
Play the video to see the different steps involved in our work at Bluewaters: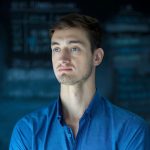 If you would like to know more about geosynthetic containers, Filip Stevanovic, our in-house GSC expert and head of engineering, is ready to guide you through a webinar. He can be reached at [email protected] or +971 4 885 3944. 
–
In case you missed our previous blog posts about geosynthetic containers, click on the text below: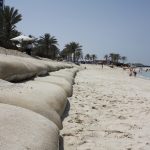 Geosynthetics
as alternative solution
for coastal protection