SECURITY BARRIERS FOR POWER PLANTS A KEY FOCUS FOR ECOCOAST
As the region invests heavily in developing its energy infrastructure, security barriers for power plants become a key focus for Ecocoast.
Nuclear Power Plants are amongst the most highly-protected and secure locations on the planet, with governments and authorities taking extraordinary measures to protect the sensitive – and potentially dangerous – technology that produces clean energy.
According to the US Nuclear Regulatory Commission, every nuclear plant in the country is required to adhere to a stringent set of security rules developed by them. These rules include the deployment of multiple fortified security barriers, both on land and in the water. As the plants are often located on shorelines due to their need for large quantities of cooling water, providing security in this environment is crucial.
The NRC approach is one that has been mirrored by other government agencies around the world.
While there are many different types of security barriers, the ones that are most relevant are the floating security barriers, as both the UAE and Saudi Arabia are investing billions of dollars into the development of nuclear power plants, as well as other renewable energy infrastructure, such as hydro.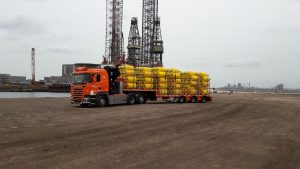 These barriers must be designed and manufactured to a very high standard, so as to provide safety and security measures as per requirements. They are deployed at both inlet and outlet pumps, primarily in seawater, while also being required to prevent the intrusion of vessels into designated and marked forbidden areas.
They also need to prevent swimmers from reaching the inlet pumps and prevent the endangering of human lives in the outlet areas of the plant's water pumps. Furthermore, small crafts such as kayaks, paddleboards and jet skis should not be able to access the protected areas.
Experience in Protection of Power Plants
We have already begun work in this sector many years ago. For these projects, we have had to consider a variety of factors, such as the environment and conditions around the site, the ability of the barriers to withstand various types of pressures – both natural and manmade, such as wave heights and frequency, currents, wind and air pressure, high temperatures and high-intensity solar radiation, amongst others.
In addition, these security barriers must be capable of being deployed in tandem with other measures, such as jellyfish nets or oil booms, or warning lights and signage, thus creating a full suite of protection offerings, which we can easily provide clients as the largest manufacturer of engineered marine barriers in the world.
Evidence of our expertise in this field can be seen in our work at Barka 3 Independent Power Plant (IPP) in Oman; Hassyan, Layyah and Hatta Power Plants in the UAE; Qatalum Power Plant in Qatar; Al Ezzel Power Plant in Bahrain; Doha Power Plant in Kuwait – just to name a few focusing on the MENA region.
–
As more of these projects come online, we are expanding our capabilities and knowledge, ensuring that we can effectively meet our clients' requirements. Get in touch to know more!