AN URGENT ISSUE FOR THE WORLD
With plastic pollution continuing to be an urgent issue for the world, proven, effective solutions can address this devastating problem.
As the world's population continues to grow, so does the demand for plastic – a demand that is causing significant environmental damage to the world's oceans, rivers and other water bodies. While there have been concerted efforts to address the issue, the sheer volume of plastic being produced and thrown out into the environment means that it is likely to be a problem that will never be solved.
To illustrate the scale of the problem, in 1950 it is estimated that 2.3 million tons of plastic was produced across the world. By 2015, that figure was 448 million tons, with that number expected to double by 2050.
Although countries in Europe and North America are striving to recycle and minimise the impact of plastic pollution, challenges remain around the proper collection and disposal of plastic waste. The issue is further compounded in countries across Asia and Africa, where the resources to adequately collect garbage and waste are inadequate to non-existent.
Therefore, it is essential that durable, effective solutions are deployed to address this devastating problem. Globally, approximately 24 million tons of plastic end up in the oceans every year, making up 80% of all marine debris from surface waters to deep-sea sediments.
This isn't just an ocean-focused issue either, with a recently conducted study finding that river floods boost the spread of plastics around the world, with even a low-severity flood likely to boost the spread potential of plastic nearly ten-fold when compared to non-flooding conditions.
While not every piece of plastic can be removed from our waterways and river systems, there are still ways to help mitigate its spread. That is why Ecocoast is working with authorities and government bodies around the world to install high-quality, durable and effective floating debris barriers that remove plastics and other floating debris from water bodies, funnelling them into catchers that allow for their safe collection and processing.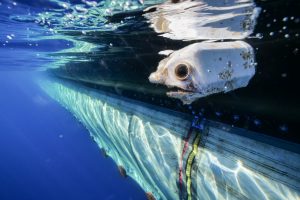 The Ocean Cleanup
Perhaps our most famous operation is our partnership with The Ocean Cleanup to design and manufacture a screen for its first marine barrier system – System 001 – to clean up the Great Pacific Garbage Patch. This system is a highly complex engineered design consisting of a 600-metre-long floating element made of High-Density Polyethylene (HDPE), to which a screen is attached, reaching 3-meters down under water. The screen is made from a tightly constructed, geotextile-inspired material.
At the time, it was estimated that the full-scale deployment of the marine barrier system will clean up 50% of the Great Pacific Garbage Patch within five years. The Ocean Cleanup's ambition is to clean up the world's five major ocean garbage patches, which are collectively estimated to hold more than five trillion pieces of plastic.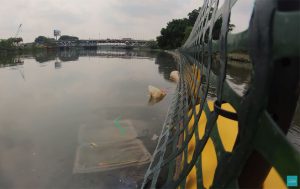 The Ocean Cleanup has also been using Bolina's Litter Fence Booms (LFB600) to guide floating debris into their invention – The Interceptor – an autonomous system for preventing the unrelenting flow of plastic pollution into the world's oceans. Their systems use our Litter Fence Booms, due to their robust construction and efficient flush-sided design, which helps to deflect and guide debris into the collection system.
DEME
Another project that we are proud to be associated with is the development of the longest debris boom in Europe, which is helping to remove plastic from the tidal river Scheldt in Belgium. Bolina has engineered the floating boom for DEME's autonomous, environmentally friendly innovation that scoops floating plastic pollution out of the river before it reaches the sea. Spanning a total length of 278-metres, the 'arms' of the booms form a funnel that guides the plastic pollution towards a litter trap, after which it is disposed of via a waste collector and an autonomous vessel.
This project has been a major success, with more than 218-kilograms of plastic waste funnelled every day into the catcher, removing seven tonnes of debris and human pollutants a month from the river.
CEFAS
Bolina is also involved in a project in Sri Lanka with the Centre for Environment Fisheries and Aquaculture Science (CEFAS), where we are supplying and installing 270 metres of Modular Debris Booms (MDB600) and mooring systems on a river in the country.
These products are still currently under manufacture, but once deployed, they should be able to help measure how much plastic is travelling down the river and entering the ocean.
Once they are in place, CEFAS hopes that the results will help determine the next course of action, whether that is increasing local awareness of plastic pollution, or putting in place permanent booms to capture and clear the river system of plastics, much like in our other projects.
–
With plastic pollution continuing to be a worldwide issue, effective solutions like the ones on offer from Ecocoast and Bolina could be a way to address the problem. With minimal maintenance required, and a robust design, our barriers offer governments, private companies and organisations the chance to clean up their water systems and revitalise their ecosystems and environments. Get in touch to know more!