DOWNTIME COST OF DREDGING: RELATIONSHIPS THAT OPTIMISE SUPPLY CHAIN EFFICIENCY
Dredging is an essential aspect of waterway and coastal management. However, dredging typically requires operational downtime of the waterway in question – in hydropower dams or port rivers, for example. Though necessary, downtime inevitably incurs costs, through commercial ships being unable to navigate rivers, reducing revenue to local economies or disrupting supply chains, or reducing energy grid capacity in the case of hydropower dams. It is of course desirable to minimise the duration of this downtime in order to minimise resultant losses.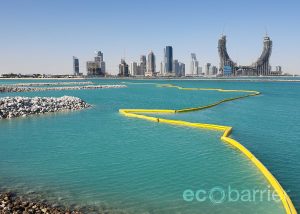 Several factors contribute to the efficiency of dredging operations and therefore to the minimisation of their duration, and this encompasses more than simply the dredging equipment itself. Environmental protection equipment is also necessary on dredging projects, in order to minimise the impact of dredging activity on local marine wildlife, and broader implications for the ecosystems of which they are part. For example, dredging increases turbidity in waters in which it is taking place, which reduces the ability of plant life to photosynthesise and of fish to navigate the waters.
For both environmental and legal reasons, dredging operators must work with partners who are able to provide equipment to minimise these unintended effects. Thus, dredging is very much a team effort, and the slowest and least efficient component of that operation will be the limiting factor that will determine the overall speed and therefore cost of the project.
In order to decrease the downtime cost of dredging, it is essential for dredging companies to perfect their supply chain so that only the most professional and competent partners are chosen to provide operational support. From experience, here are our top seven considerations when selecting suppliers to make a supply chain more efficient:
Dredging experience: What experience does the supplier have with working on dredging-specific projects? A supplier may have significant experience providing support for other water-maintenance-related projects, but do they understand the nuances and idiosyncrasies involved with dredging projects specifically? Inexperience results in inefficiencies, which results in greater downtime and costs.
Local expertise: As any water maintenance professional will know, factors to take into consideration can vary significantly by geography and region. Legal requirements differ, and so do environmental variables. Having a provider who understands the local context and how to navigate it will ensure the seamlessness of the overall dredging operation.
Transportation efficiency: How quickly is your provider able to deliver the products to the location? With an added margin of error to account for delays, how likely is it that they can deliver on time? What is their track record of delivering products to that region? Do they have established delivery routes and partners that they work with?
Deployment of product speed: Once products have been delivered, how quickly can they be set-up? Can it be self-installed, or will there be a team on the ground to assist? And in the case of the latter, will the team arrive with or ahead of the equipment to minimise wasted time and opportunity costs?
On-hand expertise: Depending on the project, it is often helpful to have an on-site supplier who is integrated into the project in order to monitor the equipment and ensure its continued functionality – providing on-hand support in the event of unforeseen circumstances.
Product quality: In all circumstances, but particularly in those of a more volatile nature, with high current speeds or debris concentration for example, or in long-use projects, the quality of the products used is of the utmost importance in ensuring cost optimisation. It is likely that products that may appear more affordable initially will end up costing you more down the line. Products that are perceived as being "cheaper" are likely to not be fit for purpose and to wear or demonstrate faults more quickly, which will require greater downtime for repairs or sourcing replacements, as well as undermining the obligations of the dredging project. Invest in higher-quality, more durable products that will ensure your peace of mind throughout the project.
Customisation: Do your suppliers have the ability to customise their products to suit case-specific needs, or do they have an off-the-rack range that is one-size-fits-all? The former is preferable to ensure the avoidance of any complications throughout the duration that may disrupt operations, and to increase the chance that products carry out their intended function to the highest degree possible, keeping your clients happy.
Choosing partners who increase downtime duration through poor performance will ultimately reflect poorly on your business, so finding a proven and reliable supplier that you can trust is an essential consideration.
–
Part of this blogpost was also published in DredgingToday.com. Link here.