ENGINEERED PRODUCTS FOR THE PROTECTION OF HYDRO DAMS
Ecocoast is a global leader in engineered products for the protection of coastlines, waterways, and critical marine assets and infrastructure. It provides products and services at every stage of the development lifecycle, from development and infrastructure, to operation and maintenance. Ecocoast is at the forefront of designing, manufacturing and distributing a range of products for protection, demarcation and navigation. In early 2020, Ecocoast acquired Bolina, the European leader in marine safety, security and environment booms for inland waterways, ports, hydro dams and critical infrastructure.
Ecocoast has extensive experience in hydro power dam and reservoir protection, ensuring increased operational and cost efficiency through the use of products that protect the environments around which dams and reservoirs are located. Hydro power dams are a crucial part of global initiatives to achieve a more renewable energy infrastructure, and Ecocoast is proud to be able to contribute to the cause of ensuring that hydro power dams are a viable and long-term alternative to traditional fossil fuels, for the benefit of the planet.
Benefits of products for hydro power dams
Ecocoast and its subsidiary, Bolina, produce a large range of marine and waterway barriers to minimise pollution, protect people and prevent damage to structures adjacent to or directly within aquatic environments, such as hydropower dams. These barriers include products known as booms, buoys and silt curtains.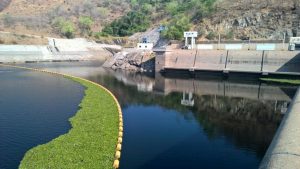 'Booms' is a catch-all term for a wide range of barriers that prevent the distribution of a number of materials and substances, which may be harmful and/or damaging, one kind of which are debris booms. In the case of hydro power dams, debris booms are able to prevent materials such as plastic, invasive plant life or wood (such as logs or branches) from accumulating and blocking the dams, as well as preventing damage to the dam itself. Damage to the dam can occur as a result of heavy floating objects being carried at speed on the surface of the river impacting the dam's structure and consequently weakening it. The effect of this is a reduction in the dam's longevity and an increase in frequency with which the dam will have to be maintained, incurring higher costs over the long-run for the dam's administrators. Furthermore, obstructions to the dam's sluice gate as a result of debris accumulation will reduce its capacity to channel water, in turn reducing the dam's efficiency, which will eventually necessitate cleaning and removal of the obstruction and cause disruption to the dam's supply and operation – further increasing maintenance costs.
If debris accumulates in a dam's sluice gate to the degree that clearing is required, this will need to be carried out manually by a team of people, which carries with it an inherent degree of risk, given its location. Reducing the amount of debris that is able to reach the sluice in the first place will reduce the frequency of maintenance, and thus the risk that workers are exposed to. Additionally, preventing long-term, cumulative damage to the integrity of the dam will ensure that the risk of breaches is minimised, and will contribute to the protection of inhabitants living in areas around the river and dam further down-stream.
Plastic pollution is an issue that has begun to receive greater attention amongst the broader population over the last decade, with impactful images of its consequences regularly circulating in the media. Much of the plastic waste that is found in the oceans, however, is in fact deposited by rivers. It is therefore essential that plastic is prevented at the source from being transported into the open oceans, where it has a significant effect on marine life. Ecocoast and Bolina are able to ensure that plastic that has been disposed in rivers is collected safely and securely, with minimal disruption to river life, and in doing so, minimise the impact of human activity on marine ecosystems.
Silt curtains are engineered products designed to collect silt in bodies of water and minimise turbidity. Turbidity affects aquatic life through reducing the amount of light that reaches vegetation, thus preventing photosynthesis, which has consequences for the entire food chain.
Furthermore, silt particles absorb heat from the light that is intercepted, which increases the temperature of the river, further affecting habitats and ecosystems, with severe disruptive consequences for the life to which affected rivers are home. Sedimentation affects the safety of dams and reduces energy production, storage, discharge capacity and flood attenuation capabilities. It increases loads on the dam and gates, damages mechanical equipment and creates a wide range of environmental impacts. Ecocoast's silt curtains can prevent this by being placed at the foot of the dam and preventing the dispersion of the disturbed silt. The purpose of silt curtains is to act as a settlement pond and allow silt time to settle within the contained area, in order to reduce the spread. By allowing the silt to settle from the upper portion of the water body, the area of spread will be limited significantly, reducing the likelihood of the silt being resuspended.
The protection of hydro power dams in practice
Protection during construction – Hatta Power Plant, UAE
Ecocoast was approached to protect the existing Hatta Dam Lake in the United Arab Emirates, during the construction of a hydro power plant, the first-of-its-kind within the Gulf Cooperation Council.
The 250MW hydroelectric power station is scheduled to be commissioned by February 2024, and will have a storage capacity of 1,500MWh and a life span of 80 years. The project's administrators hope that the hydroelectric power station will contribute to achieving the goal of the Dubai Clean Energy Strategy 2050 of providing 75 per cent of Dubai's total power capacity from clean energy sources by 2050. Electricity will be generated through a 1.2 kilometre subterranean water canal, with high efficiency in power generation and storage, and a 90-second response time to demand for electricity.
Due to the parabolic surface of the dam and seasonal meteorological influences (e.g. significant rise of water level during the rainy season), Ecocoast produced a customised, modular silt curtain with site-specific adaptions in order to meet the needs of the project.
The fully customized Ecobarrier Silt Curtains were successfully installed to ensure the water quality of the lake will not be affected during the construction works.
Replacing the bad with the good – Barka 3 Power Plant, Oman
Ecocoast was contracted to engineer, manufacture and supply silt curtains for Barka 3 Independent Power Plant (IPP) on the coast of the Sea of Oman, during overhaul projects that were being carried out to increase the output at the power station.
The plant consists of two Siemens AG SGT5-4000F gas turbines (GT), two triple pressure heat recovery steam generators (HRSG) and a Siemens AG SST5-5000 steam turbine (ST). The condenser is cooled via a once-through-seawater system. Seawater is extracted by a submerged pipe intake and discharged through a seal-pit and diffusers. At site reference conditions of 50°C ambient temperature and 30 per cent relative humidity, the plant has a net power capacity of approximately 744 MW at COD.
Existing "off-the-shelf" silt curtains on site were failing (see image on the right). They were not designed for the conditions in the Sea of Oman, where currents are often wind driven with speeds above force 7 Beaufort, producing regular movement of the sea. Ecobarrier Silt Curtains were installed instead, to minimise the damage and protect the area properly. The curtains were specifically engineered for the tough and varying conditions that the marine environment in Oman offers, with anchoring components also supplied. The Ecobarrier Silt Curtains met the environmental requirements and fully addressed their issues.
Protection from debris – Cahora Bassa Hydropower Plant, Mozambique
Hidroeléctrica de Cahora Bassa (HCB) is Mozambique's pre-eminent hydropower generation company, and it is a major contributor to the country's socio-economic growth and development. Its main focus is in extending the electricity potential of the Cahora Bassa dam – Africa's fourth-largest artificial lake.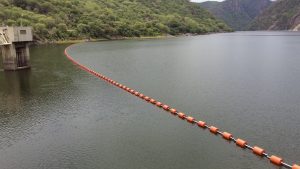 The Hidroélectrica de Cahora Bassa operated hydro power plant provides much of the power to the national grid in Mozambique and as such is a critical installation, being the largest hydroelectric scheme in southern Africa. The water impounded behind the 170-metre-high reinforced concrete hydro dam stretches an incredible 280km upstream and is subject to severe fluctuations in levels due to rainfall and other weather conditions.
As a result, the plant had been experiencing ongoing operational problems with waterborne debris overwhelming the existing boom which had been in place for a number of years and could not hold the debris back. In order to overcome these issues and to increase the reliability of the installation, a new solution was urgently needed. Therefore, Bolina was approached to provide an alternative solution.
For the project, Bolina utilised its LSB600 Log Screen Boom, developed from its highly successful Traffic Control Booms tested to over 60-tonnes. It incorporates a subsurface mesh joined together to provide a seamless barrier for logs and debris, with full articulation provided between units.
The unique tubular backbone of this boom system and the Bolina lug connections make the boom immensely strong without stressing the floats, which are fully demountable with the booms designed for continuous motion and heavy loads.
A total of 380 metres of boom were shipped from the United Kingdom in containers to Cahora Bassa together, with a gate assembly designed by the Bolina team. The gate was included to allow the passage of maintenance boats either side of the boom and was the largest that Bolina had constructed to date.
The work was undertaken by local workers employed by the power company using readily available hand tools. The complete construction of the boom on site only took two weeks and was then simply floated into place and secured in position, utilising the end connections from the previous boom.
The installed boom works as designed, and captures and diverts much more debris than the previous boom. This has both increased the operational efficiency of the plant and reduced the need for the maintenance team to clear debris from around the intakes. 
An experienced partner
Why choose Ecocoast as your hydropower dam protection products provider:
Engineered products
Ecocoast produces engineered products that have been subjected to rigorous testing to ensure functionality, longevity and minimise environmental disruption. Ecocoast prides itself on conducting the most thorough modelling and simulation testing in the industry, by adjusting dozens of variables over months of trialling so that its products are ready for real-world conditions. This level of detail and preparation is unparalleled in the industry.
Experience and expertise
Ecocoast's engineers collectively possess decades of experience on the front-line of the industry, with an unrivalled depth and breadth of expertise. This is what allows Ecocoast to be a leading products provider across the entire coastal and waterway development lifecycle, with experts in every area, designing products at the cutting-edge of technological capabilities. Ecocoast's engineers also possess vast international experience with projects worldwide.
Comprehensive product range
Ecocoast is a specialist provider of engineered products for protection, demarcation and navigation of coastlines and waterways. With decades of collective experience, Ecocoast's engineers have seen it all when it comes to water management, and have been able to inform the design of a product range that meets the common challenges experienced by hydropower dam operators and professionals. Operators need look no further when it comes to sourcing products for water management, regardless of the project demand. With a product range including aids to navigation, Bolina safety and security booms, debris booms, oil booms, silt curtains, and jellyfish nets, Ecocoast has a product to match every situation or challenge.
Bespoke solutions
Ecocoast provides customised products based on project-specific demands, adapting the products in its vast range to suit any brief, no matter how unique. No other industry provider is able to offer the same level of detail, specificity and customisation.
As any project manager in the world can tell you, no two projects are the same. They each have their own idiosyncrasies and unique challenges. Therefore, customised solutions are essential, and recently, there has been a significant increase in demand for high-strength, specifically engineered marine barriers that are fit-for-purpose. Ecocoast works with its clients to custom design and manufacture products that best suit their needs, budgets and timeframes. Its objective is to make customisation the norm, and for it to become a standard and efficient part of the design and manufacturing process, saving time and money, while delivering a high-performance product. In order to make this possible, Ecocoast has invested in bespoke technology, such as its in-house software, Marineforce, that allows its engineers to simulate a variety of environmental and marine conditions in order to optimise the customisation of Ecocoast's products.
Ultimately, the principle of our booms and silt curtains is that it is preferable to prevent a problem rather than address the problem once it has already manifested. Prevention is more time-efficient, more cost-effective, safer and more environmentally sustainable. Get in touch to know more!
–
Part of this piece was first published in Hydropower & Dams, Issue Five, 2021: Download here.