LACK OF OIL BOOMS CREATES AN ECOLOGICAL DISASTER FOR ISRAELI AND LEBANESE SHORELINES
A lack of oil booms creates an ecological disaster for Israeli and Lebanese shorelines hit by an oil spill that threatens local wildlife and ecosystems.
Lebanon and Israel's shorelines have been majorly impacted following an oil spill that happened in February 2021, possibly from a ship passing near the Israeli coast, officials from both countries say.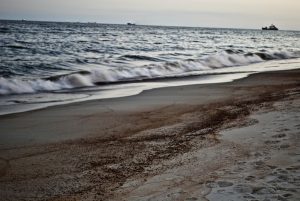 Much of the Mediterranean coastline in both countries has been covered in tar, creating an environmental disaster that could take months – if not years – to clean up. One area of immediate concern is the Tyre Nature Reserve, in the south of Lebanon, where up 200 metres of shoreline have been covered by the sticky black substance, threatening migratory birds and endangered turtles that use the reserve as a nesting site.
Compounding the scale of the disaster, the Lebanese Foreign Ministry has admitted that it does not have the capacity to address the damage caused by the spill. It has reached out to the UN, asking for assistance and technical support, but it may already be too late to reverse much of the damage.
Meanwhile, in Israel, authorities say the offshore oil leak has injured marine wildlife and closed beaches, highlighting the washing ashore of a 17-metre-long fin whale and other sea creatures on its southern shores as examples of the devastation being caused.
"This is a hazard of a magnitude we have not seen in years. We are doing everything in order to find those responsible for the destruction and are preparing for the difficult and long task of rehabilitating the beaches and preventing further injury to animals," minister Gila Gamliel said at the time, according to local media reports.
"Dozens to hundreds" of tonnes of tar have stained nearly 160 kilometres of coastline, stretching from Haifa in the north, down to Ashkelon near Gaza in the south.
Although European and Israeli agencies are searching for a possible source via satellite imagery and wave movement models, the disaster also highlights the lack of preventive measures in place to protect these environmentally sensitive areas.
Oil booms, also referred to as Oil Spill Containment Booms, are systems primarily used to contain oil spills to prevent damage to the marine environment. If they had been in place in key positions around the beaches and reserves in Lebanon and Israel, a large amount of damage could have been avoided.
At Ecocoast, we offer three types of oil booms under the brand name of Ecobarrier, with each designed for specific environmental conditions and project durations:
Foam-Filled Oil Booms – Suitable for short-term installations and calm water environments. The booms can be deployed much faster than any other oil boom, due to their lightweight construction.
Solid Flotation Booms – Suitable for longer term installations and low to high currents. These are general purpose booms that operate with little maintenance and provide years of performance.
Harbour Booms – Heavy-duty, durable oil booms suitable for permanent installations.
Emergency Oil Booms – Rapid deployment, air-inflated booms for protected waters. They can be stored on boom reels – the most effective way of deployment in emergency situations, and a good choice for when storage space is limited.
The Ecobarrier range can be deployed in ports, harbours, petrochemical shipping terminals and desalination plants. The booms are fully customisable, with anchoring accessories also available.
In 2018, we deployed an emergency oil boom in Kalba, following a spate of oil spills on the East Coast of the United Arab Emirates (UAE). Aside from being an active fishing harbour, Kalba is home to an important nature reserve and mangrove swamp. Therefore, protecting these vital spaces was an important factor in Sharjah's Environment and Protected Areas Authority's decision to appoint us to the project.
The rapid response, inflatable oil boom has been used extensively in and outside the region for both inshore and offshore applications. The boom is inflated on-site via a unique blower system and offers the advantage of a high buoyancy to weight ratio, excellent durability, and stability. It is designed not only for efficient containment of oil, but also for prevention of oil transfer to beach areas.
We are pleased to report that following the successful deployment of the boom, the precious mangrove ecosystem in Kalba are safe, secure, and protected, despite several recent oil spills along the coast, including one as recently as the end of February.
–
Download oil boom datasheets or get in touch to know more!