ECOCOAST PRODUCTS CONTRIBUTE TO THE FIGHT AGAINST CLIMATE CHANGE
On day one of the COP26 Summit this year, the United Nations Secretary General, António Guterres, in his speech to more than 120 world leaders, predicted a dire future for the world if urgent action wasn't taken to mitigate the effects of climate change.
Warning that the effects of a warming planet would be felt 'from the ocean depths to the mountaintops', Guterres pointed out that sea levels have doubled from 30 years ago, while the oceans are hotter than ever, and that parts of the Amazon rainforest emit more carbon than they absorb. Furthermore, he highlighted that more than four million people have been affected by events related to climate change.
"Enough of burning and drilling and mining our way deeper," Mr. Guterres said. "We are digging our own graves."
Coastal protection solutions
As a company that is a global leader in engineering products for the protection of coastlines, waterways, critical marine assets and infrastructure, climate change and humanity's impact on this planet has always been at the forefront of our business ethos.
We work extensively with our clients and partners to deliver products that aim to positively impact the environment. As mentioned by Guterres, rising sea levels are a major concern for the planet, and as such, we have worked on several projects that are directly impacted by this urgent issue.
One of our most important projects is in the Maldives, where the small size of the islands and their low elevation makes it one of the most vulnerable countries to the predicted impacts of climate change, which include sea levels rising, extreme weather events, and storm surges.
For decades, geosynthetics have been utilised to mitigate the impact of storms on the shorelines, and to guard against future sea level rise, and Ecocoast has worked on a hospitality project that saw us deploy our Ecobag range to create a low-crested breakwater from sand-filled geosynthetic containers to project a beach and pool. The design consisted of more than 80 containers, each 25m long and weighing in excess of 300 tonnes.
This highly durable solution not only worked effectively for the client, but also showcased the potential of the solution to other resorts across the island nation, where more than 64% of inhabited islands and 45% of tourist resorts have reported 'severe erosion', leading to an upswing of interest in our offerings.
How to tackle the spread of lethal algae blooms?
Furthermore, as sea temperatures continue to increase, we continue to see the impact on our freshwater and ocean marine environments. Coupled with the effects of nutrient pollution, water bodies around the world are seeing an increase in harmful algal blooms, which can destroy aquatic environments, contaminate surface and groundwater reserves, and disrupt drinking water supplies.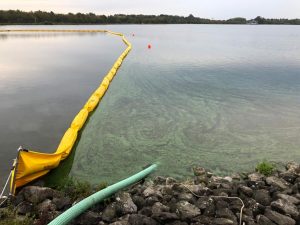 Working on a particular project in Belgium, we deployed our Ecobarrier Solid Flotation Booms to prevent the migration of algal blooms towards water intakes and maintain the quality of drinking water supplied. We have seen similar success stories on several other projects with these booms.
These general-purpose booms can provide years of performance and are made of UV-stabilised PVC membranes with chain ballasts, grab handles and anchor points, making them very easy to install. They are available in different sizes and tensile strengths.
Protecting blue carbon ecosystems
Finally, our systems have been deployed to protect blue carbon ecosystems around the world. Blue Carbon Ecosystems can have a significant impact on climate change, with coastal ecosystems of mangroves, tidal marshes and seagrass meadows provide essential climate change adaptation along coasts globally, including protection from storms and sea level rise, prevention of coastal erosion, regulation of coastal water quality, provision of habitat for commercially important fisheries and endangered marine species, and food security for many coastal communities.
These blue carbon ecosystems can be up to 10 times more efficient than terrestrial ecosystems at absorbing and storing carbon long term, making them a critical solution in the fight against climate change. They are found along the coasts of every continent except Antarctica.
Mangroves grow in the intertidal zone of tropical and subtropical shores. Tidal marshes are intertidal ecosystems occurring on sheltered coastlines ranging from the sub-arctic to the tropics, though mainly in Europe, North America, Australia and in the higher latitudes of South America and Africa. While seagrass meadows are communities of underwater-flowering plants found in coastal waters of all continents with the exception of Antarctica.
Despite these benefits, coastal blue carbon ecosystems are some of the most threatened ecosystems on earth, with an estimated 1,312 to 3,783 square miles being destroyed each year. It is estimated that up to 67 per cent of the global coverage of mangroves have been lost to either deforestation, chemical spills or other human causes. If these trends continue at current rates, a further 30–40 per cent of tidal marshes, seagrasses and nearly all unprotected mangroves could be lost in the next century. When degraded or lost, these ecosystems can become significant sources of the greenhouse gas, carbon dioxide.
Therefore, we have deployed our range of heavy-duty, highly durable oil containment booms to protect vulnerable coastal areas – in some cases proactively, and in others to mitigate the damage caused by oil spills in the area.
With the installation and use of our Ecobarrier Oil Boom range, we can help to keep the precious mangrove systems safe and sound.
As the impact of climate change becomes increasingly apparent around the world, we at Ecocoast are ready, willing and able to contribute to the fight – we encourage our clients and partners to join us as well. Contact us to know more.
–
RELATED READING
Breaking boundaries: How Ecocoast is tackling the spread of lethal algae blooms
Ecobarrier Harbour Booms utilised to protect Kalba mangroves