HOW OIL BOOMS WORK
Explaining how oil booms work and the various options that Ecocoast is able to deploy for a variety of uses.
An oil boom (also known as an oil containment boom) is a floating, physical barrier to oil that is used to stop the spread of oil and keep it contained. According to the USA's National Oceanic and Atmospheric Administration (NOAA), these booms can be made of plastics, metal, and/or other materials. They are usually deployed by skilled teams using mooring systems, such as Danforth anchors and concrete anchors.
These booms can be deployed in a variety of locations, including:
Across a narrow entrance to the ocean, such as a stream outlet or a small inlet, to close off that entrance so that oil cannot pass through in sensitive habitats, such as marshland.
In places where a boom can deflect oil away from sensitive locations, such as beaches or aquaculture areas.
Around any other sensitive sites, so as to prevent oil from reaching them.
Here are Ecocoast, we offer four types of oil booms, each developed under the brand name of Ecobarrier. Each of these booms are designed for specific environmental conditions and project durations.
They are:
Foam-Filled Oil Booms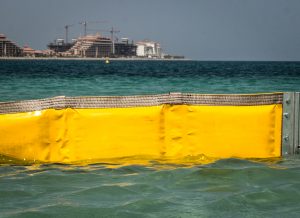 These booms are deployed on short-term installations and calm water environments. They can be deployed much faster than any other oil boom, due to their lightweight construction. They feature a series of flat panels that float on the water to contain oil and debris.
The floats are closed cell to avoid taking up any water and are manufactured in UV stabilised PVC membrane fabric. The booms are fitted with zip-ties (Class I) or ASTM slide connectors (Class II) for easy coupling of panels and quick deployment.
Solid Flotation Booms
These booms are more suitable for longer term installations and low to high currents. These general-purpose booms can operate with little maintenance and provide years of performance. Made of stablished UV PVC membranes with chain ballast, grab handles, and anchor points, these booms are easy to install, and are available in different sizes and tensile strengths.
We deployed one of these booms on a project in Belgium, where our Ecobarrier Solid Flotation Boom-1060 was used to combat blue-green algae bloom and allow clean water to flow into the lake. Working in a similar fashion, these booms can be deployed to combat oil spills in water environments that have low-to-moderate-to-high currents.
Harbour Booms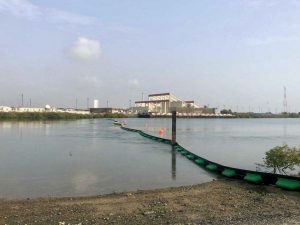 These are heavy-duty, durable oil booms suitable for permanent installations, having been designed to stay in the water for years with minimum maintenance. Typical installations for these booms include petrochemical shipping terminals, desalination plants, and marinas.
The booms are constructed of very durable high tensile material, while the floats are rotary moulded, foam-filled, long and wide, thus providing superior buoyancy and high stability in rough water and eliminating the need for bottom ballast to keep the boom upright.
Recently, we deployed one of these booms in Kalba's Alqurm Protected Area, with our Ecobarrier Harbour Boom installed in the fishing village's harbour. It was installed due to the Sharjah government being concerned about the potential damage an oil spill could cause to the coastal areas of the Alqrum Protected Area, which has a diverse ecosystem, including seawater mangroves, swamps and salt marshes, as well as mudflats – all of which provide a safe breeding environment for several species of wildlife.
Inflatable Oil Booms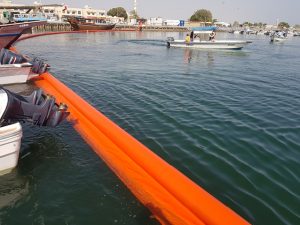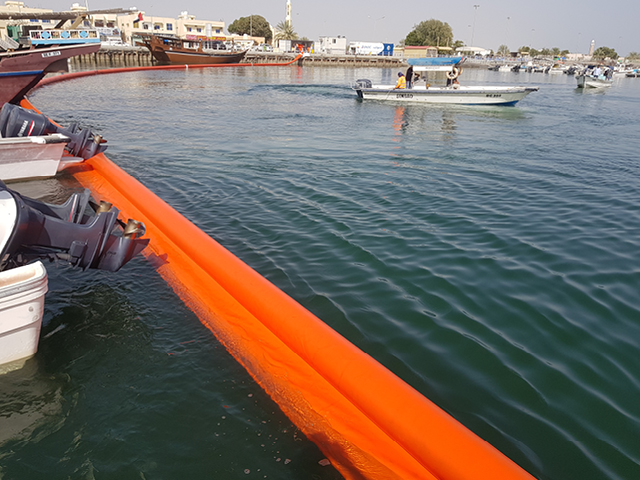 Rapid deployment, air-inflated booms for protected waters. They can be stored on boom reels – the most effective way of deployment in emergency situations, and a good choice for when storage space is limited.
Within the last year, there has been just under 60,000 tonnes of oil spilt into our waters across the globe, destroying blue carbon ecosystems in its wake. We urge Governments, Environmental Agencies and Councils to seek preventative measures to stop oil in its tracks, saving resources from clean up and the environmental areas from disasters.
You can find out specific details for our booms here. Alternatively, get in touch with us here if you have any questions. 
–
RELATED READING
Breaking boundaries: How Ecocoast is tackling the spread of lethal algae blooms
Ecobarrier Harbour Booms utilised to protect Kalba mangroves