ECOBARRIER HARBOUR BOOMS UTILISED TO PROTECT KALBA MANGROVES
Following the damage caused by the oil spill in Mauritius last year, we look at how Ecobarrier Harbour Booms are being utilised to protect Kalba mangroves in the Alqurm Protected Area.
A few months ago, the cargo ship MV Wakashio ran aground on a coral reef on the southeast tip of Mauritius, in the Indian Ocean. The resulting oil spill caused immense damage to the marine ecosystem in the area. The Japanese-owned vessel held 200 tonnes of diesel and 3,900 tonnes of fuel oil, of which an estimated 1,000 tonnes leaked into the sea when the ship's hull cracked.
The spill has left a 15-kilometre stretch of the coastline – an internationally recognised biodiversity hotspot – smeared with oil. An area that was particularly vulnerable were the mangroves on the northern shoreline, which have been covered by the oil slick. Given the importance of mangroves to marine ecosystems, this is a hugely concerning development.
However, the response by Mauritians and the global community has been exemplary, with a French team erecting ocean booms – floating structures that contain the spill, while the United Nations also sent a team of experts in oil spills and crisis management.
Effectiveness of oil booms
These measures highlight the effectiveness of oil booms. With the United Arab Emirates (UAE) and Saudi Arabia (KSA) also having to deal with similar challenges, albeit thankfully on a much smaller scale, perhaps it's worth revisiting what makes them so effective.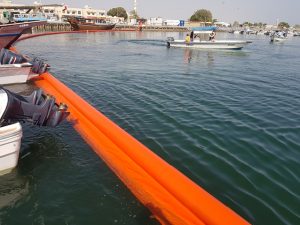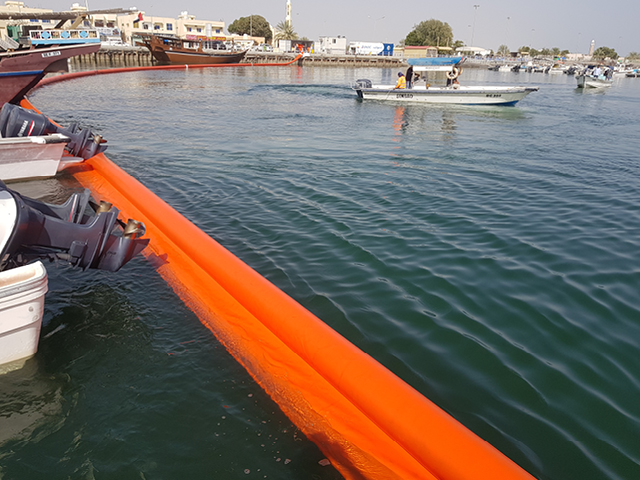 In 2018, there were a spate of oil spills on the East Coast, and Ecocoast was required to install an emergency oil boom in Kalba, which is part of the Sharjah emirate. These oil spills affected a wide range of people – not only those are living along the coast, such as fishing communities, but also hoteliers, diving centres and most importantly, protected area authorities.
Besides being an active fishing harbour, Kalba is home to an important nature reserve and mangrove swamp. Therefore, protecting these vital spaces was an important factor in Sharjah's Environment and Protected Areas Authority's decision to appoint us to the project.
Spanning a total area of 4.997sqkm, the Alqurm Protected Area was declared as such by the Emiri Decree No 27, issued by His Highness Dr Sheikh Sultan bin Mohammed Al Qasimi, Supreme Council Member and Ruler of Sharjah.
Located in the coastal areas of Kalba city, Alqurm is characterised by having a diverse ecosystem, including seawater mangroves, swamps and salt marshes, and mudflats – all of which play a key role in providing a suitable environment for breeding several types of species.
Following the deployment of the emergency oil boom in 2018, we were recently tasked with manufacturing and installing an Ecobarrier Harbour Boom in the fishing village harbour. Demarcation lights for night-time visibility were also supplied by us.
The Ecobarrier Harbour Boom is a heavy-duty, durable oil boom that has been designed to stay in the water for years, with minimum maintenance. Constructed of high tensile material, the boom's typical installations include ports, desalination plants and marinas. Its floats are rotary-moulded, foam filled, long and wide, which provide superior buoyancy in rough water, and eliminate the need for bottom ballast to keep the boom upright.
With its installation, we hope to keep the precious mangrove ecosystem in Kalba safe, secure, and protected from any future man-made disasters, for years to come.
–
Interested in knowing how to contain oil spills? Contact us here.