HOW ECOCOAST WORKS TO PROTECT HYDRO RESOURCES
How Ecocoast products help protect and secure hydro resources around the globe – a focus on Safety, Security, Environment and Aids to Navigation solutions.
As the world moves towards greater protection of its hydro resources, with increased legislation and regulations in place for our oceans and freshwater sources (including groundwater and rivers), it is essential for companies and communities to work together to find ways to protect and secure these resources as they will be critical in the fight against climate change and meeting the needs of growing populations around the world.
At Ecocoast, we work closely with our partners and clients to create solutions that will answer their needs and solve their problems. In particular, we focus on four key segments: Safety, Security, Environment and Aids to Navigation, with our products used in ecosystems and environments ranging from water reservoirs to river systems, all the way through to coastal mangroves and seacoasts. For each of these segments, we have products geared towards specific operational needs.
Safety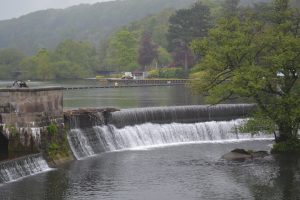 Bolina Safety Booms have been used on a number of different installations, such as treatment plants, reservoirs and dams around the world, with one installation at Lake Lyell near Lithgow in New South Wales, Australia, successfully protecting the dam and keeping water users away. The dam is situated close to a campground and recreation park, so protection is of crucial importance.
Bolina Safety Booms were chosen because of their robustness and durability – they cannot be sailed over due to their buoyancy and cannot be lifted up easily due to their weight. The booms have been designed to create a safety barrier that will prevent event the smallest craft from passing through.
Our entire range of safety booms have been deployed on projects across the world, and have proven effective in providing safer waterways by reducing the risk to the public at critical sites. Our safety booms are the preferred choice for organisations such as Staatsbosbeheer, Thames Water and the UK's Environment Agency.
Security
Bolina Security Booms have been deployed for the protection of assets that are essential for the functioning of society and economy, such as airports, ports, power stations and other critical sites and situations. They have been used across several high-profile projects around the world with a successful performance (G20 Summit, London 2012 Olympics, London City Airport).
Bolina worked a couple of years back with KBR and Chevron in Nigeria to increase security of their assets and prevent piracy attacks. The security booms provide effective protection thanks to their tubular backbones, which makes them capable of withstanding loads in excess of 50 tonnes. They come with rotating steel spikes that discourage boats from trying to get over the booms by jumping the gaps between floats. They have been designed to dissipate energy generated at impact, while still remaining buoyant and in place, so as to help prevent follow up attacks.
Environment 
Minimising the impact of oil spills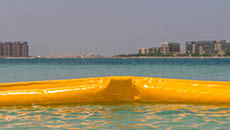 Over the years, Ecocoast has worked closely on projects that seek to mitigate the environmental impact of manmade activities and developments. In particular, we have worked to minimise the impact of oil spills on surrounding ecosystems through the deployment of our Ecobarrier Oil Booms, which are primarily implemented in ports, harbours, pipelines and intake projects, as well as in marinas and waterways.
These systems are crucial to limit the damage caused to surrounding communities and ecosystems, such as in May 2020, when Ecuador's Coca River saw an oil spill take place because of massive erosion along the banks of the river, linked to the Coca Codo Sinclair hydroelectric plant, causing oil pipelines to collapse. If adequate preventive measures had been put in place along the riverbank, an ecological disaster could have been avoided.
Mitigating damage to critical structures
Jellyfish blooms represent a serious threat to water intake structures and can cause infrastructure damage, plant shutdowns and safety hazards if not mitigated properly. Another system that we offer is booms with jellyfish nets, which can be used to filter jellyfish out of water intakes – a solution that is cost-effective and requires limited maintenance.
Managing accumulation of debris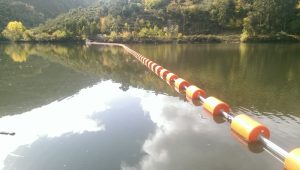 The Bolina Debris Boom Range have been installed to protect hydro resources around the world, and they form an essential component towards having clean waterbodies as they help maintain and manage the accumulation of debris in waterways and waterbodies. If left unchecked, debris can pose several issues, ranging from damaging equipment and blocking intakes or outlets, through to causing flooding and pollution of surrounding areas.
This is why debris booms are a useful addition to any operator's arsenal – these floating booms are designed to not only exclude or contain naturally occurring floating debris such as tree branches or seaweed/reeds, but they also effectively block man-made trash that might be floating in the waters.
This not only has the benefit of keeping waterways clean and potable, improve their efficiency and performance as less time and resources will be spent maintaining them, but they also protect critical infrastructure from disruption.
We have deployed Bolina Log Screen Booms to protect a high-profile hydroelectric power plant in Galicia, Spain. Our LSB600 boom was effective here in preventing heavy debris from accumulating on one side of the dam and blocking intake or outlet areas. This is but one project of this nature that we have carried out, with others in Zambia and Mozambique as well, where naturally occurring flooding can generate an exceptional volume of debris.
For more information about our products and how they can be applied, join us at HYDRO 2022 this year.
VISIT US AT STAND #12 to learn how to protect critical marine assets and infrastructure to avoid operational issues, damage to the systems and extra $$$. What's more, get a chance to win a gift box valued at 245 euros!
–
IMPORTANT INFO & DATES
MON 25 – WED 27 APRIL
HYDRO 2022 Strasbourg, France. For more information about the conference and event, and to register to attend, you can visit: https://www.hydropower-dams.com/hydro-2022/register-online/ and don't forget to pass by stand #12.
TUE 26 APRIL MORNING SESSION 10 AT 9AM
Paper on 'Effective Methods for Controlling Water Borne Debris', presented by Michael Sims, Bolina Ltd.
–
THE ECOCOAST REPRESENTATIVES