A SHIFT IN FOCUS TOWARDS ENVIRONMENTAL PROTECTION
Still today, dredging operations are conducted without the use of silt curtains worldwide, even if water quality standards (ie. turbidity standards) are exceeded, affecting the surrounding shallow coastal and marine ecosystems. Unregulated dumping of dredge materials is also not an uncommon practice, raising concerns about the release of pollutants to the marine environment. However, the trend in recent years has been for there to be a shift in focus towards environmental protection.
Qatar then and now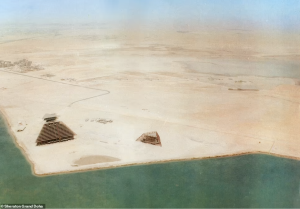 The Doha Corniche used to be an empty stretch in which the only visible building was the Sheraton Grand Doha Resort. At the time this area – now called Doha's West Bay area – was under development, no silt curtains or other systems were used to protect it. About 40 years on, the consequences can still be felt. Substances can be found on the public beaches, most likely caused by the deep-sea mining of sediment when developing this stretch of the corniche.
Nowadays, the Qatari government recognises the importance of marine biodiversity and sustainable development, and is becoming a pro-active leader, just like the UAE and KSA, when it comes to introducing regulations and legal requirements to protect and preserve natural areas during dredging activities. We can only applaud such progress.
Regulations in neighbouring countries
In the UAE, it is required to use settlement ponds for dredged slurry, with there being several examples that highlight their effectiveness in protecting the environment around the worked upon area.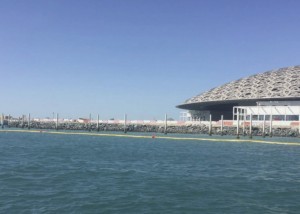 One such example is where our Ecobarrier Silt Curtains were deployed during the building of the Louvre Abu Dhabi. Initially deployed as a precautionary measure to contain sediment in the event of a newly flooded area requiring emergency dewatering, the silt curtains also helped to protect ecologically sensitive habitats around the site, including sea-grass meadows, corals, mangroves and shellfish beds.
In Saudi Arabia, projects such as The Red Sea Project are taking great pains to ensure that any work being done around marine habitats come with stringent controls in place to ensure minimal disruption to the ecosystem around this.
Silt curtains are an extremely effective solution in controlling dispersed suspended sediments – when specified and installed correctly.
–
RELATED READING
Beyond dredging: The changing role of silt curtains
How silt curtains maintain environmental equilibrium on dredging projects
Silt curtain models: A call for international regulations