Happy New Year from the entire Ecocoast team!
We are never limited in locations to enjoy New Year's Eve fireworks in the United Arab Emirates. We were proud Ecocoast had been selected to design and install temporary structures for New Year's Eve fireworks events in Dubai, Sharjah, Abu Dhabi and Ras Al Khaimah. Over 2,600m2 of floating pontoons! A very difficult logistical challenge that we were able to bring to a successful end, creating stunning, memorable fireworks events in all 4 locations of the UAE.
All temporary floating pontoons in different sizes and shapes – making the fireworks displays all the more spectacular when positioned above water. All constructed skilfully, planned meticulously, and executed within tight timeframes with no room for delays. All unique. All fun.
And what's more, we helped the city of Ras Al Khaimah break two world records, smashing the Guinness World Records for the longest chain of fireworks AND the longest straight line of fireworks. The latter spanned an area of 13km along Al Marjan Island. Read more in TimeOut.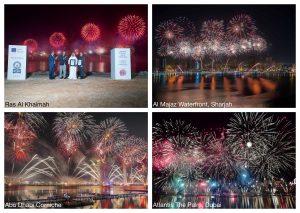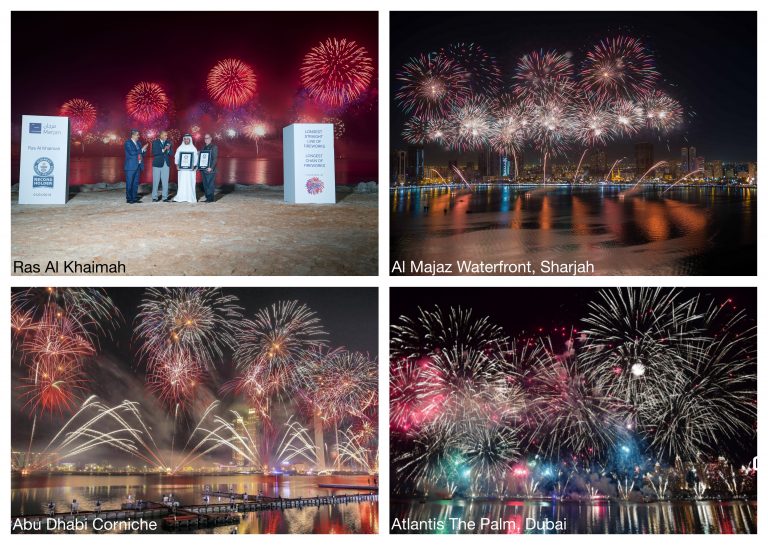 We are pleased to have been able to provide our technical expertise to ensure safe, spectacular fireworks displays throughout the UAE.
–
More about our event services here. And if you wish to reach out to us, kindly use our contact form.