SPATE OF OIL SPILLS HIGHLIGHT IMPORTANCE OF CONTAINMENT BOOMS
The spate of oil spills over the last year highlights the importance of containment booms and the need for governments, companies and coastal authorities to be more proactive rather than reactive. 
It has barely been a month into 2022 but the world has already seen two major oil spills that could have devastating impacts on coastlines, wildlife and ecosystems on both sides of the world.
As recently as January 29, 2022, Thailand government officials have declared a beach in eastern Thailand as a disaster area as a leaking underwater pipeline in the Gulf of Thailand spilt an estimated 50,000 litres of oil into the ocean, about 20 kilometres from the country's industrialised eastern seaboard. The oil slick has reached the shoreline at Mae Ramphueng beach in Rayong province, after spreading over an area of 47 square kilometres in the gulf.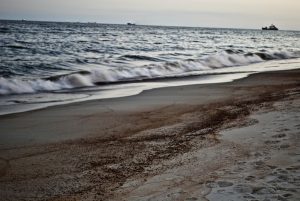 Meanwhile, Peru has revealed that the oil spill off its coast is twice as big as previously reported, with almost 12,000 barrels of oil leaked into the sea as on January 15, 2022. Officials have said the spill is an 'ecological disaster' that is to blame for the deaths of local fish and seabirds. The spill took place when a tanker at the La Pampilla refinery was hit by waves linked to a volcanic eruption in Tonga. Located about 30 kilometres from the capital of Lima, the site is owned by Repsol, the Spanish oil company.
2021 was also not without its challenges, with December seeing a pipeline rupture deposit more than 300,000 gallons of low sulphur diesel into the waters around the Charlotte Refinery, which is just outside New Orleans in the United States (US). Thousands of fish, birds and other wildlife have been killed in the ecological disaster.
Another incident in 2021 was the Orange County oil spill that occurred in October, which saw approximately 131,000 gallons of oil spilled into the ocean following a broken pipeline approximately 4 miles off the coast, near an offshore oil drilling platform. The spill resulted in a 13-mile-wide oil slick off Orange County, California, US.
Closer to our regional headquarters, the 2021 Mediterranean oil spill occurred in February 2021, possibly from a ship passing near the Israeli coast, causing widespread damage to both Israel and Lebanon's shorelines. Much of the country's beaches were covered in tar, creating an ecological disaster that threatened local environments and ecosystems.
While there has been extensive and comprehensive recovery work undertaken to limit the damage of these spills, they are often too limited in scale and response time to prevent the widespread damage that has already taken place.
These disasters highlight the lack of prevention measures in place to protect environmentally sensitive areas. While it may be impossible to protect every inch of coastline, governments, companies and coastal authorities need to be more proactive and aware of systems that can be deployed to help limit the damage caused.
Oil booms, also referred to as Oil Spill Containment Booms, are systems primarily used to contain oil spills to prevent damage to the marine environment. If they had been in place in key positions around the areas mentioned, then perhaps the catastrophic consequences witnessed would have been far more limited.
Ecobarrier Oil Spill Containment Booms
At Ecocoast, we offer 4 types of oil booms under the brand name of Ecobarrier, with each designed for specific environmental conditions and project durations.
We work with our clients in a proactive and anticipatory manner to ensure that our systems can be deployed rapidly and with minimal set up, as time is of the essence in these situations. Our rapid response, inflatable oil boom has been used extensively for both inshore and offshore applications.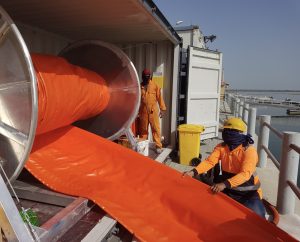 The boom is inflated on-site via a unique blower system and offers the advantage of a high buoyancy to weight ratio, excellent durability, and stability. It is designed not only for efficient containment of oil, but also for prevention of oil transfer to beach areas.
The effectiveness of this system has been proven in its deployment in Kalba, the United Arab Emirates (UAE), where the Environment and Protected Areas Authority appointed Ecocoast to install an emergency oil boom to protect the region's environmentally sensitive nature reserve and mangrove swamp.
Despite several close calls and scares over the years, the mangrove ecosystem in Kalba continues to thrive and growth, protected from man-made ecological threats by our booms. Get in touch to know more!
–
RELATED READING
Ecobarrier Harbour Booms utilized to protect Kalba mangroves
Lack of oil booms creates an ecological disaster for Israeli and Lebanese shorelines
Ecocoast protects blue carbon ecosystems