We recently did beach cleaning with our Cherrington machines for a hotel opening on Jumeirah Beach Road in Dubai, removing any unwanted debris, such as glass, plastic, bottle caps, sharp stones and a significant number of cigarette butts.
We offer a cleaning regime that fits in with our clients' specific situations, covering both standard operating hours and after-hours. For this particular job, beach cleaning was done at night. Our Cherrington machines have spotlights and our operators are trained to work at night to avoid disrupting the beach during daytime.
Our beach cleaning services ensure an efficient means of maintaining safe and high quality beach, play, sporting and other leisure areas. For the hotel opening, our machines operated by removing sand and debris from up to 6mm below the surface, screening all debris and loading it into the hopper while returning the screened and aerated sand to the beach, leaving the beach clean and looking well groomed.
A "before and after" photo of the beach clean is attached.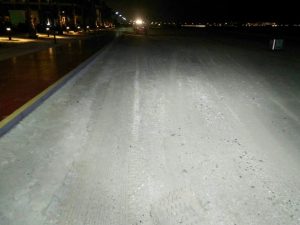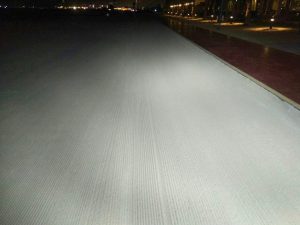 As outlined in a recent article in The National newspaper, the damage being caused to local waters by cigarette butts is on par with the impact of plastic pollution. "Most people do not realise that the filters in cigarette butts are made from a type of plastic called cellulose acetate that takes around 30 years to break up," commented Natalie Banks, Managing Director at Azraq in the article. "All these leak into aquatic environments, impacting the quality of water and the marine life." More here. 
–
We also do wet beach cleaning and have a team of professional divers that can access underwater structures and marine habitats for inspections, cleaning, repair and surveying purposes. More about our dive services here, and if you wish to know more about our beach cleaning services, feel free to reach out to us!