MAINTAINING OUR FOCUS ON KEEPING THE UAE'S BEACHES CLEAN
In this blogpost we look at why it is important to keep beaches safe and healthy as tourists return to the United Arab Emirates.
The last few months have seen the number of COVID-19 cases falling dramatically across the UAE, thanks to the country's impressive vaccination drive, which has seen the majority of the population fully vaccinated.
The upshot of the country's efforts has been that border restrictions have begun to ease, and tourists are being welcomed back, particularly with EXPO 2020 in mind. Obviously, with the cooler months of the year upon us, we can also expect the city's beaches – both private and public – to begin to see more activity than they have over the last two years.
Therefore, it becomes crucial that these beaches are kept clean and in an attractive state. With greater numbers using them, the amount of waste generated and left behind will also grow, creating environmental hazards for both beachgoers, residents and native wildlife that live along the shores and in the waters off the coast.
Creating safe and healthy beaches for everyone
Cigarette butts, food wrappers and packaging, straws, bottle caps and beverage cans and bottles are just some of the most common items left behind on beaches, with plastics being a particularly insidious threat to marine ecosystems.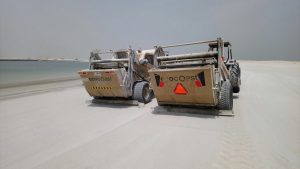 That is why we offer a range of beach cleaning services, maintaining our focus on keeping the UAE's beaches clean and aiming to create safe and healthy beaches for both users and the wildlife that call them home. Our equipment is available for hire on a daily, weekly, monthly or one-off basis. Furthermore, we offer flexible scheduling, covering both standard operating hours and after-hours to fit our clients' specific needs and situations.
Ecocoast's beach cleaners work by aerating the sand, screening out debris under the surface, and removing debris on top of the surface. The sand is immediately returned to the beach, while the larger debris is removed. They are capable of removing unwanted debris such as glass, plastic, bottle caps, sharp stones, and even cigarette butts – which are a major polluter and threat to the quality of water and marine life.
We work closely with our clients in the UAE to carry out beach cleaning works, using our range of Cherrington beach cleaners, including our most recent addition to the fleet – the Weifang Baili Tractor 1104, which is used to pull our Cherrington 4500XL beach cleaner. Also included in our fleet is the Cherrington 5500 model, which is a self-propelled beach cleaner with AC cab that comes with groomer attached.
Our machines have spotlights, and our operators are trained to work at night so as to avoid disrupting the beach during the daytime. They are also trained to ensure that the delicate shoreline ecosystems are not damaged – for example, the Cherrington 5500 model has a zero-turn radius, making it perfect to manoeuvre around trees, walkways, and barriers – both man-made and natural.
The Cherrington models can remove sand and debris from up to 6mm below the surface, screening all debris and loading it into the hopper, while returning the screened and aerated sand to the beach, leaving it clean and well groomed. Furthermore, they are also equipped with cameras to allow the operators a clear view of the screen bed, conveyor system, and the back of the machine.
We also offer wet beach cleaning to clients, with our machines capable of operating in water depths of up to 1.5 metres.
Making UAE's beaches more accessible since 2009
We have cleaned well over 3,000,000 square metres of area and removed more than 2,400 cubic metres of debris from beaches, golf courses and racetracks, equating to more than 5,500 tons of waste, or as much as 54 trailer loads (2014-2020 data). We have been involved with a variety of beach clean up operations, including planning and preparation for New Year Eve's fireworks (and the post-event clean up); we are also regular participants in events such as International Coastal Cleanup Day and have partnered with Emirates Diving Association on Cleanup Arabia.
–
As the UAE returns to normalcy, we must remember the importance of keeping our beaches safe and clean, given how important they are as tourist attractions to the millions of visitors from around the world. Get in touch to know more!