HOW ECOCOAST CAN HELP PREPARE FOR JELLYFISH SEASON
Over the past couple of years, the UAE has been experiencing a jellyfish influx in October, so we look at how we can help UAE hotels and resorts prepare for jellyfish season. 
One of the key requirements for any hospitality and recreational service provider in the UAE is to have access to a beachfront. Even city-based hotels offer their guests access to beaches via shuttle buses and partnerships with sister hotels. This is because the UAE's shoreline is one of the main attractions to tourists and holidaymakers looking to enjoy some sunshine and work on their tans.
However, with this heavy demand for beachfront comes a requirement to keep them clean and safe for all those using them. This comes in many forms, and whether it's keeping the sand clean or making sure that the water is free from hazards or pollutants, owners, operators and government agencies all have a responsibility to ensure that beachgoers are provided with a safe and secure environment to relax in.
Examples of these hazards can be seen on a regular basis, with Dubai's beaches periodically being hit by naturally occurring phenomenon such as swarms of jellyfish, while other beaches along the coast have been impacted by man-made disasters such as oil spills and debris from ongoing construction and land reclamation projects.
Therefore, it becomes essential to have adequate protection in place in the water, which is where our range of modular protection solutions comes into play. We not only offer oil booms that can help contain and minimise the damage caused by oil spills, but we also offer containment booms that can control foam and construction debris to prevent water pollution, as well as a range of custom-made Jellyfish Nets to protect swimmers and recreational users.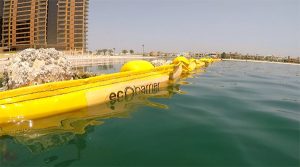 While our oil and containment booms are regularly used across the industry, our jellyfish nets are perhaps not as well known.
Primarily used at public, private and hotel beaches to protect swimmers from jellyfish in a confined area, our range of nets perform a similar role (or may be part of) a swimming barrier to demarcate a safe swimming area. They can also be part of a debris boom to protect a swimming area of rubbish and debris. Our nets are custom-made for each project and are designed for quick and easy maintenance, repositioning, re-installation or removal.
Given that jellyfish blooms happen seasonally, and that our beachfronts are regularly hit by them in varying numbers, perhaps hotels and resorts in the UAE need to re-examine their preparedness in case they are affected by this naturally occurring phenomena, which can disrupt the comfort of their guests and spoil their experience.
–