Beach Cleaning in Ras Al Khaimah
We have been doing beach cleaning works after beach side wedding celebrations at a 5 star resort in Ras Al Khaimah for the past 3 years, which emphasizes the importance the resort places on sustainability and integrating it in day-to-day operational management.
Sustainability is an important topic and of crucial consideration for this resort. The internal teams understand the importance of keeping beaches healthy, from an ecological, a physical and recreational perspective. This is where we, at Ecocoast, come in. The coastal development, protection and improvement solutions we offer in this area cover the whole package to create, protect and maintain a safe and healthy beach, play and sporting area.
The backdrop of the Arabian Gulf and the Hajar Mountains make the resort an excellent destination for wedding celebrations. Immediately after a celebration, we go in to aerate the sand to screen out dangerous and unwelcome debris on the surface and hidden under the surface. All debris is loaded into the hopper, while the sand is returned to the beach. Our team works overnight to ensure the beach is safe and clean by the morning.
A photo collage of one of the beach cleans at the resort is attached, showing the before & after at the exact same location, and some after photos of different areas at the resort, highlighting the flexibility of our beach cleaning machine. Our machine offers zero turn radius for maximum maneuverability around trees, sun loungers and walkways.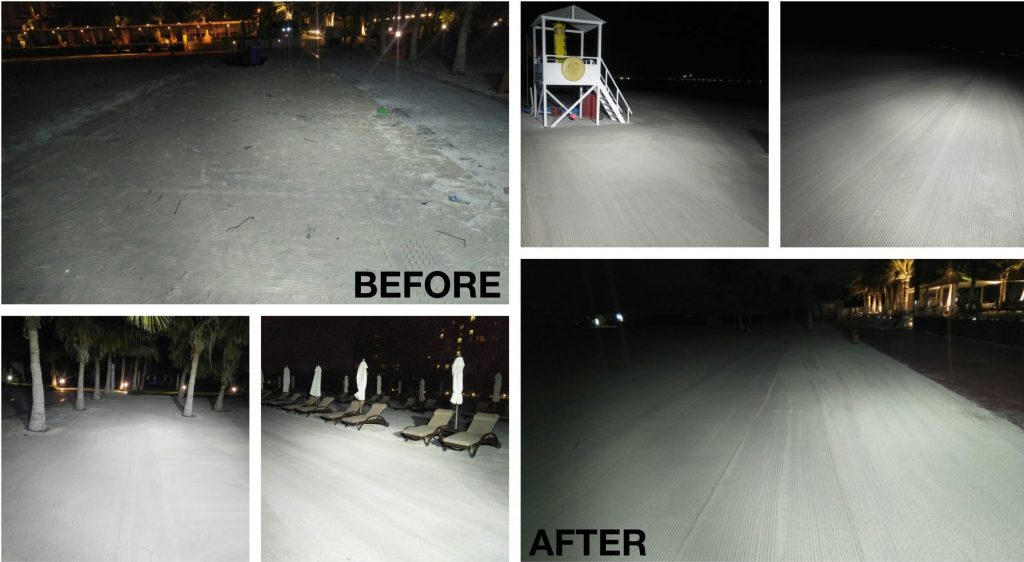 –
To find out more about our coastal development, protection and improvement solutions, visit this page. Or alternatively, get in touch with us through our form.