ALL YOU NEED TO PROTECT YOUR HOTEL GUESTS IN ONE PLACE
Ecocoast offers a complete range of modular products that protect hotel guests from floating debris and oil, and stop jellyfish from entering at the same time.  
At Ecocoast, we believe in being a single point of contact, a partner for you, providing you with solutions for all your beach and marine protection requirements. Nowhere is this more apparent than in our range of modular protection products, which are fully customisable and configurable to your needs.
With projects becoming increasingly ambitious, and clients becoming more aware of what needs to be done to protect delicate marine ecosystems, the need for marine barriers and protection is only growing. In just the last year, we have been involved in a variety of projects that have required our systems for protection, ranging from oil spills, through to debris redirection and protection from jellyfish for the hospitality industry and beyond.
Our newest innovation – the Bolina Recreation Boom – recently installed at a resort in Fujairah, the United Arab Emirates, is a highly visible and effective boom that can be used as demarcation for recreational areas and stop jellyfish from entering at the same time. The barrier not only deters marine traffic and keeps swimmers safe in designated areas, but also stops marine debris, floating plastic, and other materials, such as oil, seaweed, hyacinth, timber, leaves from entering the area. It can be fitted with nets to stop jellyfish from entering the demarcated areas. A new innovative, modular solution developed through expertise and by committing ourselves to results.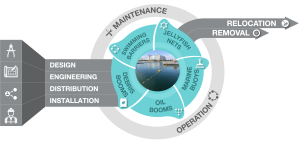 We can play a role throughout the entire value chain, from design and engineering, distribution and installation, through to operation and maintenance, as well as relocation and removal, and support you across all challenges you face.
Given these jellyfish blooms happen seasonally, hotels and resorts must be proactive and re-assess their preparedness for such an eventuality.
–
RELATED READING
How can Ecocoast help prepare for jellyfish season
Beach cleaning fleet expansion to help keep UAE beaches clean
Ecobarrier Floating Buoys help create safe swimming zones